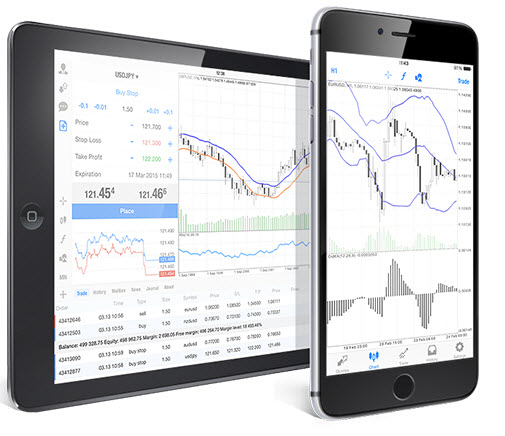 Wireless technology has made it easier than ever before to engage in stock trading 24/7. We use our smartphones and tablets to connect to the internet and carry out trading in a swift and convenient way online.
There are plenty of online trading platforms available that works well with touch screens, including small smartphone screens.
If you want to try out mobile stock trading without risking any real money, you can check out the app TradeHero. At TradeHero, you can practice mobile stock trading for play money. As you sign-up, you will receive $100,000 in playmoney. Use this to build your fantasy portfolio and try out various investment strategies. You will compete against other users, and the best performing portfolios are added to the leaderboard. If your fantasy portfolio does well enough, you can even receive a real money price. TradeHero contains a lot of educational material that can help you become a more savvy stock trader – before you make the leap and start trading using your own hard-earned cash. The TradeHero app is available for both iOS and Android.
Mobile trading apps
Below you will find a few examples of the many mobile stock trading apps available online.
E*Trade Mobile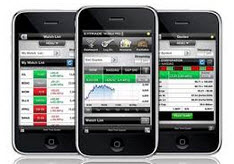 E*Trade is a large and well known stock broker online, and it is not surprising that they have developed mobile trading apps for iOS and Android to complement their more traditional browser based trading platform. In addition to stocks, you can buy options, mutural fund shares and exchange traded funds (ETFs) in the mobile apps. Real time news are delivered by Morningstar.
Important: The iOS app works well not just with iPhone and iPad, but with the Apple Watch as well.
Robinhood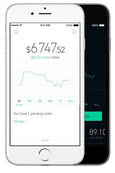 Online stock broker Robinhood made quit a splash when they launched their service back in 2014, making commission free stock trading a possibility. They have minimalistic mobile trading apps for download, for both Android and iOS. In 2015, the iOS app received an Apple Design Award.
An interesting feature in the trading app from Robinhood is how it uses geolocation to suggest geographically relevant stocks.
So far, Robinhood chiefly has young members (<30 years of age) – including a lot of first-time investors.
There is a social component of the app, where you can watch trends emerge based on the activities.
TD Ameritrade Mobile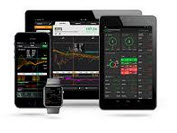 This is an excellent mobile app if you want to trade not just in equities, options and futures, but also engage in forex trading. There is one app available for iOS and another one for Android. Both are very good at helping the client analyze trends and sports an interactive market calendar.
Orders and positions are displayed in a very clear way, making it easy to stay on top of things even when events develop quickly and call for rapid actions.
TD Ameritrade Mobile has a social component and will allow you to chat with other traders.
Tip: Scan the bar code of a consumer product using your mobile device, and the TD Ameritrade mobile app will instantly show market info about the company.
In need of market information?
Just as there are plenty of trading apps to chose among, there are plenty of information apps tailormade for stock traders. There is for instance StockTouch, which will give you stock market info in real time. Sort the stocks by market capitalization, by volume, by percentage gains or just alphabetically. If a particular stock catches your fancy, it is easy to zoom in and find out more about it. StockTouch also provides info on market trends. At the time of writing, StockTouch is only available for iOS.